Goldrake Vs Vega - C64 free game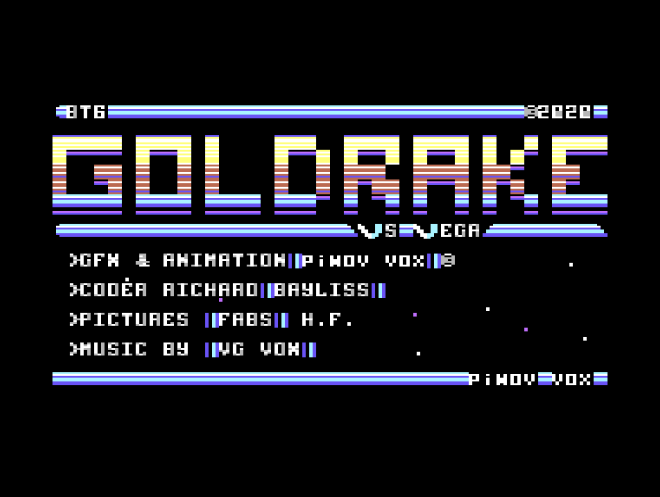 Welcome to - Goldrake Vs Vega - ... (c) vox 2020 video game ... designed by Pinov Vox, using the "Outlaw Sensible Software" Shoot 'em up construction kit ... kickassembler front-end programming by Richard Bayliss tnd64 .unikat.sk ... music composed by Vg Vox ... Picloaderi by Fabs HF ... Grendizer is a television anime of the mecha genre produced by toei animation from 1975 to 1977 and based on the Go Nagai manga of the same name. ... this is my new version of goldrake "goldrake vs vega" for your real c64 or emulators ... press fire to play ... the moon is red ...! imminent vega attack head to infinite space ... pilot a nice ufo-robot space "Goldrake" aka "Grendizer" ... during your journey you arrived near the planet Vega ... you are attached to alien mini-discs. .. !!! ... Vega King is close ... Vega is close with its fleet of mother ships, mini-discs and all lspace monsters ... prepared to fight the bad aliens and their leaders in the sector 0500-0950 ... hand to the joystick in port 2 ... good luck and have fun ...! press the fire ... to ... start ... !!!
Have a good time...!
Executable with Vice C64 emulator, realmachine C64, TheC64 (new), Your Ultimate C64, theC64Mini and others....
CREDITS:
Source Code: "Outlaw Sensible software 1987" (S.E.U.C.K.)
Design & animation: Pinov Vox
Kick Assembler Framework Code: Richard Bayliss
tnd64.unikat.sk
Fx sound & Music: Pinov Vox & Vg Vox
Picloader: Fabs (Hokuto Force)
Tape loader: Disk to Tape Extra

Kickassembler 5.5
Comments
Log in with itch.io to leave a comment.
Who downloads my games "Grendizer Vs Vega for free".
7 October 2020 - 31 October 2020 (Halloween promotion).